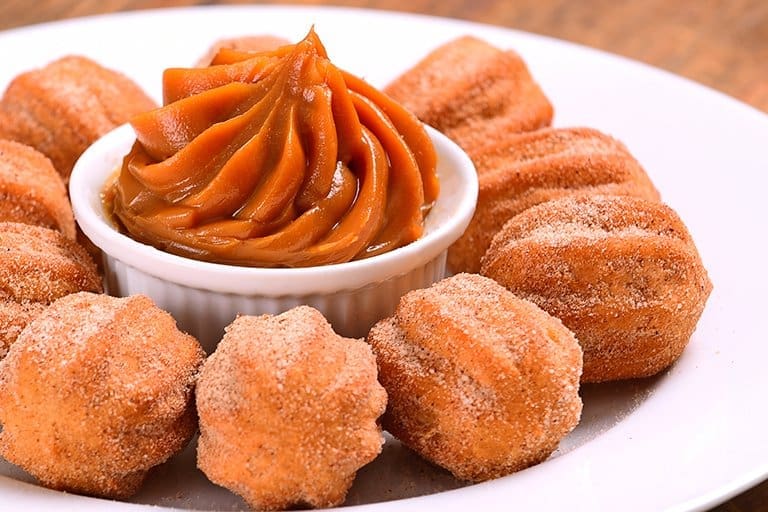 ¡Suavecitos por dentro y crujientes por fuera! ​If you've ever wondered how to prepare your own churros, you've come to the right place. Aprende a preparar los famosos Churro Bites caseros de la Abuela Conchita, much better than your average size Churro! ​
​
INGREDIENTS​
1/2 cup of turbinated sugar ​
1 tablespoon white sugar ​
2 tablespoons ground cinnamon ​
1 pinch of salt ​
1 cup of water ​
1 tablespoon vanilla 2 cups of​
Conchita Vegetable Oil, optional​
1/2 cup all-purpose flour​
Conchita Guava Marmalade​
Conchita Dulce de Leche​
INSTRUCTIONS​

1. On a big bowl, mix all-purpose flour, one tablespoon of white sugar and a teaspoon of ground cinnamon. Then, add one cup of boiling water, a vanilla tablespoon and whisk with a wood spoon until dough is compact and sticky. Transfer the churro dough to a piping bag fitted with a star-shaped tip. Start making small Churro portions with the raw dough and leave aside on a kitchen towel.​
2. Add 2 cups of Conchita Vegetable Oil in frying pan on medium-high heat and add the Churro dough into the hot oil for frying. Fry the Churro Bites until they are golden brown on all sides and low heat temperature if necessary to avoid burned pieces and raw dough.​
3. When ready, transfer to paper towels to remove excess of oil for a couple of minutes. On a separate large dish, mix 1/2 cup of turbinated sugar and 1 tablespoon of ground cinnamon and then roll bites in the cinnamon-sugar mix. ​
4. Serve the churro bites warm with your Conchita Dulce de Leche or Conchita Guava Marmalade.​
Churros are a delicious choice for breakfast or for an afternoon snack with hot cocoa or Cafecito con Leche! Sweet, simple and traditional, enjoy an original recipe from our family, to yours!​
​
¡Yumm… Disfruta!